Celebrities Who Shared Their Topless Nudes On Instagram Publicly: Some celebs are more into the bikini pics, while others lean the hell into being nude AF (I'm looking at you, Kylie Jenner). Just wait until you see these celebs who bared it all on Instagram. And we mean topless, bottomless, and even full-on nude. Hot? Definitely. Aggressive? Maybe. But you gotta love their confidence.
1. Lizzo
This story is now just a Lizzo appreciation post. The singer posted a much-needed a** update, reassuring (heh) her followers that the booty is just as glorious as ever. Honestly, I love this energy.
In an effort to change the conversation around beauty standards, Lizzo posted an unedited selfie to Instagram. "Normally I would fix my belly and smooth my skin but baby I wanted show u how I do it au natural," she wrote. Absolutely here for Lizzo and realness, always.
---
2. Bella Thorne
It's scientifically proven that the best way to start off a long weekend is with a little "sun's out buns out" moment. Thankfully, Bella Thorne has supplied followers with exactly that. She shared full-on bootay in a strappy Lil thong bikini aboard a very expensive-looking yacht. This is the energy.
---
3. Nikita Dragun
Remember Ariel from The Little Mermaid? This is her now. Feel old yet? Nikita Dragun has dubbed herself "the little transgender mermaid" after posing 100% nude on IG. She really is giving naked-Ariel-realizing-she-has-legs vibes.
---
4. Bella Hadid
At this point, almost half of this list is pictures of Bella Hadid – and I'm 0% mad about it. The model showed off some tasteful underboob in preparation for a 3D body scan. No idea what that means, but I'm into it.
---
5. Tana Mongeau
Tana Mongeau had to find some way to top her booty pic (see below), so she grabbed a horse and ditched her top. The result is a collection of classic Tana pics with a fun, equestrian twist.
The 2020 presidential election is fast approaching and celebs are using all of their resources to throw support behind their candidate of choice. So, it's only fitting that Tana Mongeau posted a belfie in support of Joe Biden. The YouTuber promised a free nude to anyone who proved they voted for Biden and, apparently, it worked.
"Love to see so many ppl who want change as badly as I do. U don't need my ass to know what's right for America so go VOTE!"
"Update #bootyforbiden broke tana uncensored," --- Tana captioned the butt pic.
After a three-month hiatus from Instagram, Tana is officially BACK. You know she wasn't about to make her big return with some casual selfie, so one of the very first pics she posted was this chic topless shot. The YouTuber, famous for the absolute lack of f*cks she gives, posed partially nude for a glamour shot that has my jaw on the floor. She REALLY did that.
---
6. Tyler Posey
Tyler Posey has Teen Wolf fans screaming over his brand new announcement. The actor and musician announced that he opened up his own OnlyFans account and even gave fans a sneak peek of what they can expect (including a video of him playing guitar naked) if they subscribe.
---
7. Jeffree Star
Bet you didn't expect to open your IG and see Jeffree Star's butt today, did ya? The makeup mogul shared alllll the goods in a booty-baring selfie.
---
8. Noah Cyrus
If you ever get bitten by a spider on your butt, you obvs need to take a ton of pics of it and post it on Instagram. At least, that's what Noah Cyrus did when it happened to her. While she hasn't developed any superpowers just yet, it looks like she's doing just fine recovering from the bite.
---
9. Lady Gaga
Lady Gaga's newest cover for Paper Magazine features her as a robot, attached to wires and locked in a glass box. The pic is pretty cool, but the most iconic part has to be Gaga's rejection of pants and her rockin' robot bod.
Gaga took to Instagram to share a few scandalous pics. The shots, taken by photographer Eli Russell Linnetz, show the singer with large blonde hair, putting on stockings. Who knew getting dressed could look so good?
---
10. Gigi Hadid
A little high-fashion nipple is always the cherry on top of a good Fashion Week and this season, Gigi Hadid really supplied. The supermodel looked gorgeous and confident in an elegant lace gown at the Tom Ford show in LA.
ALSO READ - Gigi Hadid is Pregnant, First Baby With Boyfriend Zyan Malik
---
11. Emily Ratajkowski
Emrata (Emily Ratajkowski) loves a good lingerie moment, so it's no surprise that she took to her Instagram to share this stunning video of herself in a sheer, deep-v teddy peppered with polka dots. Of course, her winged liner is on-point, her brows are perfectly coiffed, and her hand is strategically placed for totally glam nude vibes.
---
12. Ashley Benson
Ashley Benson bore it all in three sexy snaps where she's rocking nothing be some knee-high leather boots, and a well-placed blazer. In the pics, Ashley also shows off her new haircut, which she documented on Instagram just a few days prior.
---
13. Miley Cyrus
Previously, Miley Cyrus posted this pic on Instagram to let her fans know about her newest obsession: mirror selfies (same girl). She did inform people, though, that the pic was going to get removed soon. "I've been warned by the gram gods !" she wrote, since the inclusion of her nipples breaks the social site's policy.
---
14. Sofia Richie
Sofia Richie posted this topless pic on Instagram, seemingly for no other reason than to celebrate Friday junior. "How's your Thursday?" she asked in the caption, and her boyfriend, Scott Disick had the best response. "It's not bad thanks," he wrote. Yeah, I'm sure it isn't.
---
15. Kylie Jenner
The beauty mogul made a major announcement on Instagram, revealing that she and Travis will be featured in the upcoming issue of Playboy. Fortunately, Kylie didn't wait to give her fans a look of what's to come, sharing a pic of her bare butt on her feed. The Kardashians LOVE a nude insta moment.
SHOULD READ - Kylie Jenner denies bullying a model from Tyga music video
---
16. Kendall Jenner
Kendall Jenner seems to have been having the best time recently as she's taken her followers around NYC. Not only has she been hitting up bodegas, but she's also been hanging out with some of her closest friends, including Kourtney's highly rumored on-and-off-again ex Luka Sabbat. This time, Kendall gave her followers a peek of her hotel bathroom as she took some pictures of herself in a bathtub while showing off her "alien hand." Looks like Ben Simmons might be rethinking that "break" right now.
---
17. Kourtney Kardashian
Kourtney threw every stitch of clothing to the wind while posing nude for GQ Mexico (seemingly in some swanky AF L.A. penthouse with a serious view). The photo series features her in a wedgie-defying thong/tank top onesie and a turtleneck with her bare butt to the camera.
MORE TO READ = Inside the Kardashians' $6,000-per-night Lake Tahoe finale rental home
---
18] Kim Kardashian
Kim showed off her incredible body on Instagram in what must be the tiniest bikini ever made. The mom of three also rocked the same bikini a few days ago, but this pic is the one that really got people's attention.
The whole Kardashian/Jenner crew stripped down to their lingerie for Halloween, borrowing wings and underwear from Victoria's Secret. Collectively, the sisters showed off a lot of skin as they strutted around in their looks.
READ MORE - Kim Kardashian posts sneak peak of explosive 'KUWTK' reunion with Andy Cohen
---
19. James Charles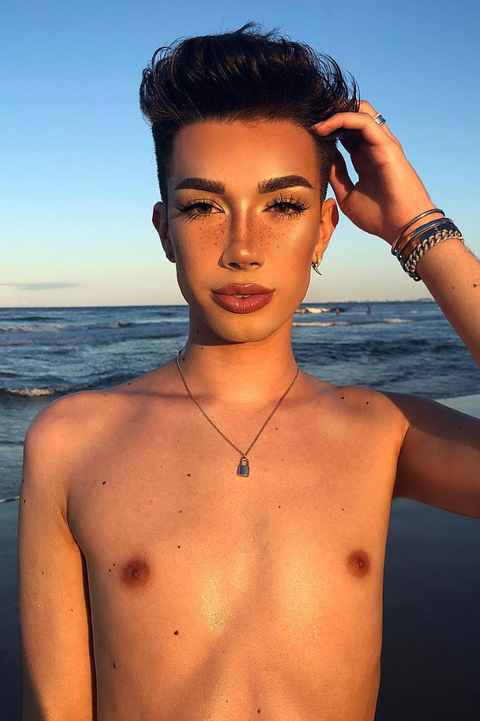 Unlike Kim Kardashian, Drake Bell, and all your other favorite naked celebrities, makeup artist James Charles posted his nude totally by accident. And even though it wasn't posted on Insta, I had to add this hilarious mishap to the list.
Yesterday, the influencer updated his Story with some major booty. He quickly deleted the post and in its place, posted a selfie captioned "sorry to all 10,000 of you that saw that LMAO oopsies!"
Later, he took to Twitter to laugh with his fans about it. "I ACCIDENTALLY JUST POSTED A NUDE ON MY SNAPCHAT STORY AT LEAST MY BODY LOOKED AMAZING LMAOOO I'M DELETING MY ACCOUNT BYE." He later added, "damn I should've facetuned my butt first."
Honestly, he should have left it! That pic was.
---
20. Britney Spears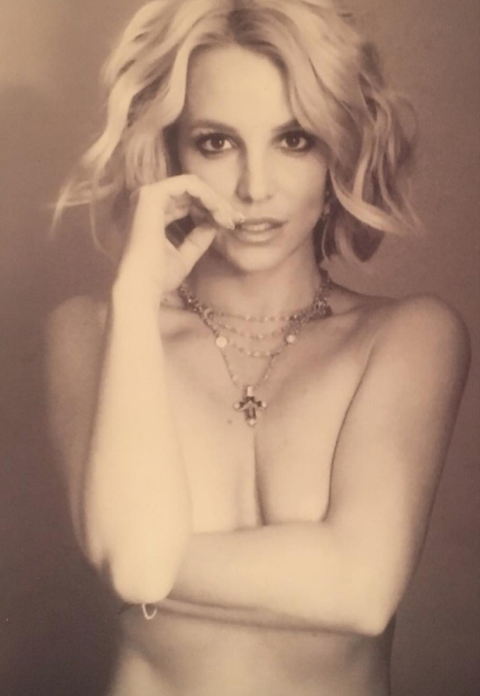 Just last year, Britney Spears posted this sexy pic on Instagram. Fans went wild, and you can see why!
More To Read - Britney Spears With Boyfriend Sam Asghari, Trip To Hawaii For Early Birthday Celebration
---
21. Tommy Dorfman
For a V Magazine photoshoot, Chronicles of Narnia star Tommy Dorfman stood completely bare in front of a New York City, street-facing window. In his post caption, he made it very clear: "I was, in fact, naked in front of a window on mercer street thanks to @vmagazine."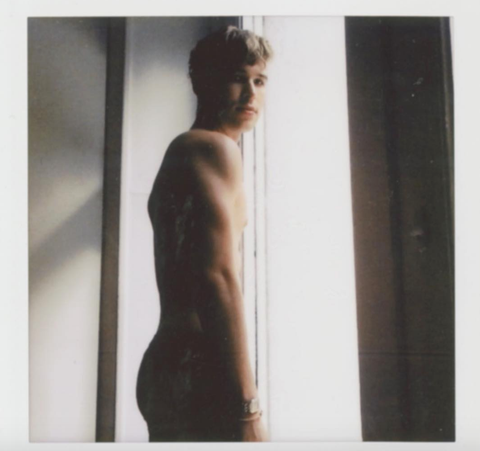 ---
22. Rihanna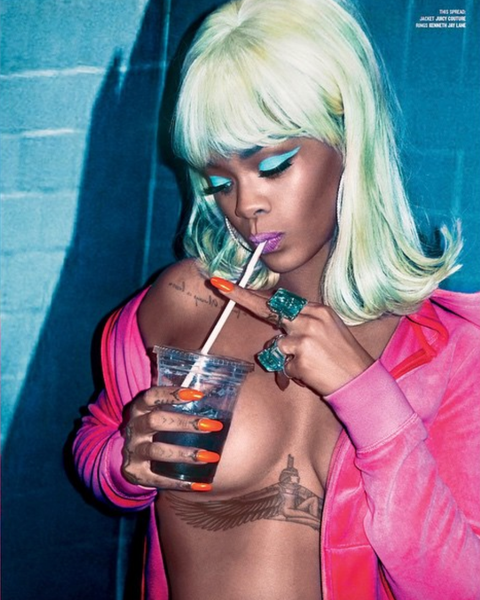 Bad girl RiRi takes everything to the next level with this post on Instagram. Bleach blond hair, blue shadow, orange nails, and baring ~almost~ everything, Rihanna sure knows how to make a statement.
---
23. Ashley Graham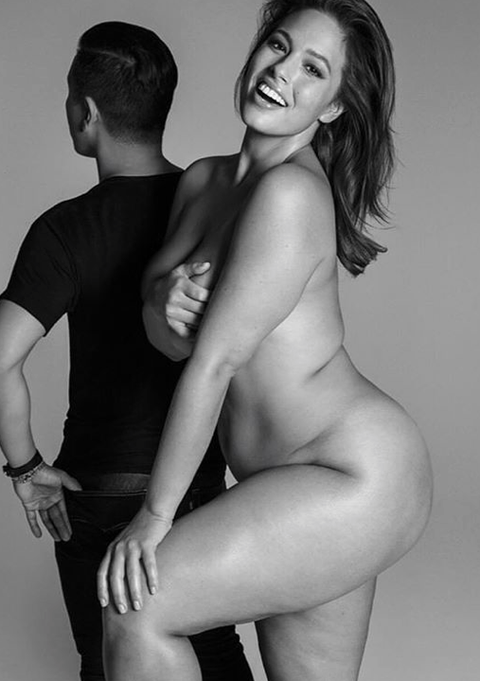 Ashley is not one to shy away from nude pics, and she always slays in every single one she takes. She captioned this pic, "All I have to say is - Thank You @PrabalGurung! Thank you for your desire to create clothes for ALL women."
---
24. Ariel Winter
With this post (and many scandalous new outfits), Ariel Winter looks like she's finally breaking free from her child star phase.
---
25. Rita Ora
Rita Ora stripped it all down in this sexy Instagram shoot by the sunset. Perfectly entitled, "Sundaze."
SHOULD READ - Rita Ora Strips Bikini Goes Topless While Sunbathes With Boyfriend Romain Gavras On Holiday In Ibiza