Malaika Arora Meme, Mocking Her Song 'Anarkali Disco Chali' – The ongoing lockdown due to the Coronavirus Epidemic (COVID-19) has been extended until May 31. Bollywood celebs are trying to make the most of their free space time by indulging themselves in different activities. while some are busy doing cleaning their home, some in household chores while some are busy exploring their inside hidden talents.
Amongst everyone, bold actress Malaika Arora khan has been spending time with her son Arhaan at home and enjoying her precious free time. From cooking to clicking cool funny pictures with her pooch, Malaika is having a gala time.
Malaika Arora Memes Mocking Her Song 'Anarkali Disco Chali'
Recently, Malaika shared a hilarious meme on her social media to brighten up her fan mood in boring lockdown. Sharing a meme and mocking her popular song "Anarkali Disco Chali" from the movie "Housefull 2". She has shared a photo of Anarkali lying down while her lover Prince Salim is looking at her while holding her hand. Giving a hilarious twist to it, Malaika's meme captioned, "Thank God tum yaha ho Anarkali.. Malaika Arora keh rahi thi ki tum Disco chali".
Malaika posted also the meme with laughter emoji. Check out the funny post below: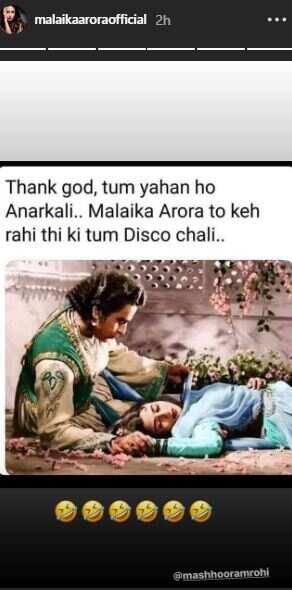 Malaika Arora Khan Video Calling with other Celebs Actress in Lockdown
Meanwhile, this super hot actress Malaika video called with Karishma Kapoor, Amrita singh and Kareena Kapoor Khan shared a video on her social media where all were enjoyed their gossip session. Even the lockdown, the divas are ensuring they catch up with each other via video call.
For more celebrity news, gossips, photos and celebrity lifestyle stay with us on Moviespie.com. Follow us on Instagram, Twitter, Google News.
Related posts